My initial idea was to do a live case study setting up an Adsense site (since I consider it one of the easiest ways to get started making money online, as you don't need to do anything), but I found out about this super-cheap yet great product called WP Funnel Profits so I thought we could do a live case study together on how to set up a  squeeze page, start growing a list (from scratch) and make some affiliate sales along the way.
So I have purchased the product (see the proof here)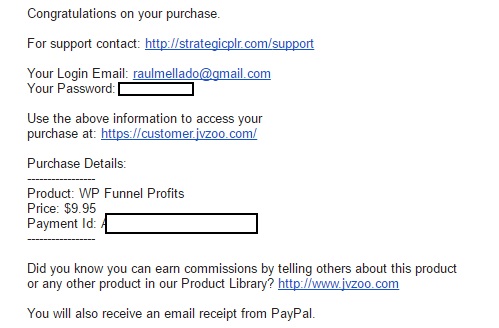 and I'll be recording (on video plus here on the blog) everything I do to get some sales.
These are the main steps I'll be doing
Put the squeeze page online
Modify it so the leads go to your own autoresponder
Set up an e-mail sequence with multiple promotions
Drive traffic to the squeeze page using multiple methods.
Track subscribers and sales
And of course, I will be answering any questions along the way that you might have.
You are not required to purchase the product, however it might help you since you can copy and duplicate the same exact steps I will be doing (plus, at this moment it's just $9.95, so your bank account should not suffer too much).
You can get it here if you are interested
See you along the way!
PS. Full disclaimer: this is supposed to be a training and a learning experience. Don't assume that by copying every single step I do, you will get rich straight away. Bear in mind there might be many people who will be trying to do the same, at the same time. However, I can guarantee you this: if you are a beginner or intermediate marketer, you will learn a few things (if you are and advanced marketer this might not be for you, since I will be explaining everything step by step, in a very basic way).
PPS. In order to give everyone a chance to purchase the product (if they want to do so), I will start the live training next Monday (april 10th).